If Your're A Competing Bodybuilder You Should Only Buy Synthol Direct From This Official SyntholRx Website. Buy True, 100% AUTHENTICATED Pump n' Pose Bodybuilding Site Enhancement Oil.

The Facts On The Original Synthrol 877 Formula
If you're looking for the top selling Synthol 877 Formula, you have come to the right place. This is the ONLY website where you can buy real Synthol DIRECT FROM US !
Over the years, there have been countless offers to buy synthol products claiming to be as effective as the original.
While to date, none of them have come even close.
The Synthol 877 synthol formulation is often imitated, but has never duplicated. This exact product has been on the market for decades, and it's reviews speak for itself.
What Makes Synthrol 877 The Best Site Enhancement Oil Formula
The original Pump N' Pose  formula was first developed over 2 decades ago. Since then, customer feedback has helped us to improve the product as needed.
We never took it upon ourselves to change the product unless our consumer's demanded it.
As the suggestions from consumers became less and less over the few years, we knew we had finally achieved the best site enhancement oil possible.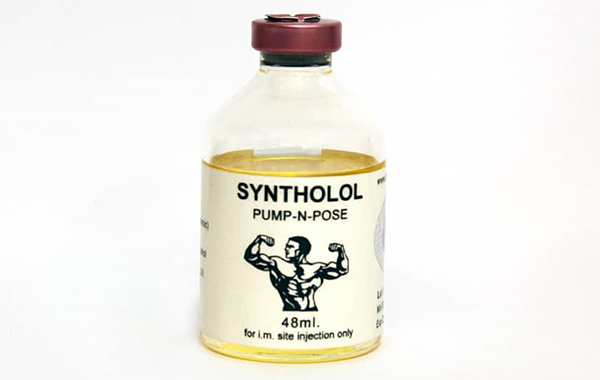 Buy Synthol on this website, assured that the product is 100% Guaranteed Authentic.
How We Developed The Best Synthol Possible
Developing the best synthol was not very hard to do once we listened to our clients. They made  suggestions, and we found a way to deliver on those suggestions.
We were always careful not to compromise the primary goal of muscle growth. Through years of fine tuning, we were able to formulate a site enhancement oil that is as perfect as it can be.
The application is painless, and the blend is properly ph balanced which means  there is never any unwanted swelling or irritation.
You can induce real muscle growth without the use of any banned or illegal ingredients.
Professional bodybuilders use our this exact products, and it is 100% undetectable.
100 Ml. Pharmaceutical Grade Packaging
Vacuum Sealed for Freshness and Sterility
Free USPS Expedited Shipping Anywhere In America
Not Banned for Use In Competition
You Are Buying Direct, So You Save Money and Guaranteed AUTHENTIC !
The Synthrol 877™ Formula is The #1 Selling Site Enhancement Product in the World. It is the Pro-Bodybuilder's Top Choice !
No other muscle enhancement product in history has received this many professional endorsements.
If looking for a professional grade muscle enhancer product with top reviews. Synthrol 877™ is the right product for you. Get that perfect physique starting RIGHT NOW !
-Purchase A Quantity of 2 & GET The 3RD FREE-
FACT: Did You Know, This Exact Product Was Used To Build The Largest Biceps In The World !
What is Synthol™ ?
Synthol™ site enhancement oil is a product that bodybuilders have secretly been using for decades now to enhance muscle mass, improve definition, and create perfect symmetry within their physique.
Real legitimate Synthol can add 2-3″ of rock hard muscle to a bicep in as little as 30 days. Synthrol is completely safe, legal, and requires no prescription.
Ingredients:
The precise ingredients in Synthol™ site enhancement oils, a well guarded secret.
The Synthrol 877 formulation, is in a league all of its own.
Synthrol 877 contains a unique proprietary blend of ingredients that CANNOT BE DUPLICATED.
Regular users of site enhancement oils are very clear about the different results they receive from each brand. Bodybuilders know what works best, and so they tend to stick to 1 specific brand.
Legitimate Synthol™ posing oil products, produced in sterile, lab prepared and ph balanced. Utilizing a variety of legal anabolic-like growth factors in order to deliver an explosion of new muscle growth.
Products like Synthrol-877™ are pain free and will not cause unwanted swelling or painful irritation of any kind.
Synthrol is a proprietary blend of ingredients, perfectly calculated and formulated to deliver the desired results and maximize the gains in muscle mass.
Legal status: 
Make sure to always buy the only real Synthol™, the Synthrol-877™ Formulation.
Legitimate site enhancement oil products will NOT contain any illegal or banned ingredients.
Buy direct  from us and you can rest assured your product is completely safe.
Synthol™, sold for external use only. This site enhancement oil is completely legal under all federal, state, and local laws.
Professional Bodybuilding:
The Patent Pending Synthrol 877™ formualtion is the brand of choice among professional bodybuilders. Synthol™, the most commonly used muscle enhancer oil in professional bodybuilding.
This specific brand sold more than all the other brands combined ! No other site enhancement oil has ever received higher reviews.
The internet is full of amazing feedback on this product – even eBay and Amazon consumers consistently rave about the amazing results they achieved while using Synthrol 877™.
Use: Used on any muscle group. Synthol™ muscle oil most often used in the final 4 weeks prior to competing. And of course the night of the show for the most perfect appearance ever.
Amateur, non competing and recreational bodybuilders will most often use Synthol™ on their biceps for one obvious reason. IT WORKS SUPER FAST !
Using synthol on the biceps can easily add 2-3″ to a bicep in as little as 30 days. While getting gains like that with anabolic steroids, it would take over a year at best to get gains like that.
Aside from use in the biceps, Synthol™ oil most often used on abs, deltoids, biceps, triceps and traps.
Synthrol 877™, a Powerful Muscle Site Enhancement Oil. Endorsed By Professional Bodybuilders Throughout The World.